Professional Business Card Design Services in Singapore
Name Card Design Singapore
NAME CARD DESIGN PORTFOLIO
Name cards are the primary marketing tool for your business and believe it or not every prospective lead of yours would expect you to have one. Legible typography, minimalist design, key details highlighted serves the purpose. When you are exploring for new leads/connections, a business card is vital. Designing a name card in a word document or printing in a low cost paper will not work. Contact a professional name card designer to get your business cards designed now.
With over 200+ cards designed, I have extensive knowledge with the perfect usage of fonts for your name card design which could help in spreading your business.
Read more about name card FAQ to get your questions answered.

How to design a Name card:
The Ultimate 10 Step Guide
Although we live in a digital era, name card design still plays a main role when it comes to business. Imagine you are meeting someone on an official note and would like to keep in contact for future prospects. A quick exchange of a name card which is creative and conveys all the key vital information will clinch the attention of your client. It is very important to have your name card designed by a good name card design Singapore freelancer.
A name card is a credit card sized printed card that holds the information about the card holder and their business information like brand logo, address, contact number, company name, the card holder's name etc. Your name card design is an essential part of your company's branding and also it adds some credibility to your business.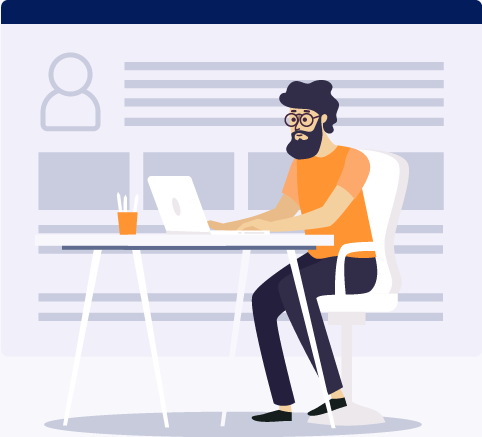 Name card can lose their significance if they have no logo, logo should be present in all your marketing strategies including your business card. When you decide to market your  business, then first step is to hire a professional logo designer in Singapore and then followed by your marketing collateral designs.
In this article I'll share with you the 10 step guide that will help you understand the necessary elements of a name card and how to create it. This will help you to get an idea of the options that are available on how your business card can be and you can tell your designer what exactly you want. Name card is very essential if you are a business person and your name card is the projection of yourself so it can create a bad impression on you and your company if it looks unprofessional. These golden 10 steps will help you create a good name card or it would give an idea of how it can be designed. If you are looking for a name card designer to design your name card you can contact Subraa, name card Singapore freelancer.
Choose your card shape
If you have already fixed the traditional rectangular business card, you can skip this step but if you want to know your options further read this step. The printing techniques are more advanced and affordable and die-cutting edge technique enables us to take print in any shape that we want. This enables you to be as creative as you would like to be but don't forget that your name card represents you, so make sure it projects you well.
Choose your card size
The standard size of a name card is your country's standard size of a name card. What? Why?
Because each country follows a different standard size for a name card, for example, North American Standard is 3.5 × 2 inches, the european Standard is 3.346 × 2.165 inches and the Oceania standard is 3.54 × 2.165 inches.
Know the print terms
There is another factor to consider when designing. It is the following three areas of your name card that should be left empty.
Bleed area: the outermost area that will be cut while printing.

Trim line: the border line where the card should be cut.

Safety line: as the name implies this is for safety if the cut comes a bit inwards.
Remember basic design principles
Design principles for printing must be followed when setting the layout for the name card, it is important to pay attention to this name card design layout setup. Check if you have left enough space for the Bleed area, trim line and safety line in your name card.
Use 300dpi for best image production

Use minimum size for your typography to make your name card look legible

Use CMYK format.
Logo and graphics
Elements of a name card plays a good role in visualisation. Name Cards should have a logo which represents your business. Your logo should take the center stage of your business card, it should be the most attractive element of the name card because it is the identity of your business. Graphics can easily grab attention, so you can add graphic elements in your name card to make it attractive. If you want to make your name card approachable and casual use vectors and vibrant colors.
Add your contents
Content plays an important role, designs are to grab the attention of your audience but Information is the key which would help them to reach you. Make sure you place all the following details in your name card Name, Company name, Job title, Phone number, Email, Website URL, Social media(optional), Address, QR code, Slogan (optional) You can also add extra information that you want to add but make sure you highlight the important information so that the viewers don't miss it out.
Choose your typeface and colors
Fonts and colors comprise a name card because they are predominantly present so it is important to choose them wisely. Your font should be attractive as well as readable. Remember each font possesses characteristics so make sure you use a font that suits your branding. Each Color has its own characteristics and emotions so it is important to know what you want before selecting your color. Also make sure that the color of your logo design and name card color should match with each other.
Use special finishes
Using special finishes are another to make your name card a stand out. You can top it in several ways however I'm listing a few popularly used special finishes that can make your card attractive
Embossing: This technique is creating a 3 dimensional design that is used to make certain areas of your name card to pop out.

Letterpressing: It is pushing the paper down and making the letters and design look it it has popped out of the paper

Foil stamping: If you want your name card to look shiny and reflective like a thin foil then you can use this method.

Spot UV coating: This can be used to make certain elements of your design shinier than the others.
Be creative and give them something useful
Creativity is the most important thing in designing, so be creative. Break the box and try new designs. Now printing has advanced techniques so try to give them something useful. Like printing your name card in a transparent plastic, metal, wood or even slate. Don't let them throw away, give them something they would keep. Like giving your name card in a debit card which they can use or give it in a hair click holder type. Give them anything that they will keep.
Finalise your design
Finally when your name card is done and print a sample and proofread and check if everything is accurate and check the visual flow of your card like which is read first by your mind and which attracts. Also check if the colors match and fonts are readable.
FREQUENTLY ASKED QUESTIONS
A professional name card for your business is very important, name card designs leave a good impression about your business to your customers. Name cards help to pass the key information about your business to your customers. I have tried to answer a good number of questions about name cards which would be useful.