How to choose the right Font for your Logo Design
Fonts helps to represent a brands image and it is more vital to choose the right font for a logo design Singapore. When we think about a business, we recollect the image/graphical representation of the logo however it's not just the graphical elements which will bring in the required attention to your brand, it is also the fonts which brings in the boldness your brand depicts. Fonts helps the audience to learn about your company's name and the sector in which your business is operating. A careful selection of fonts by your freelance logo designer helps to ensure that your brand is portrayed well in the market.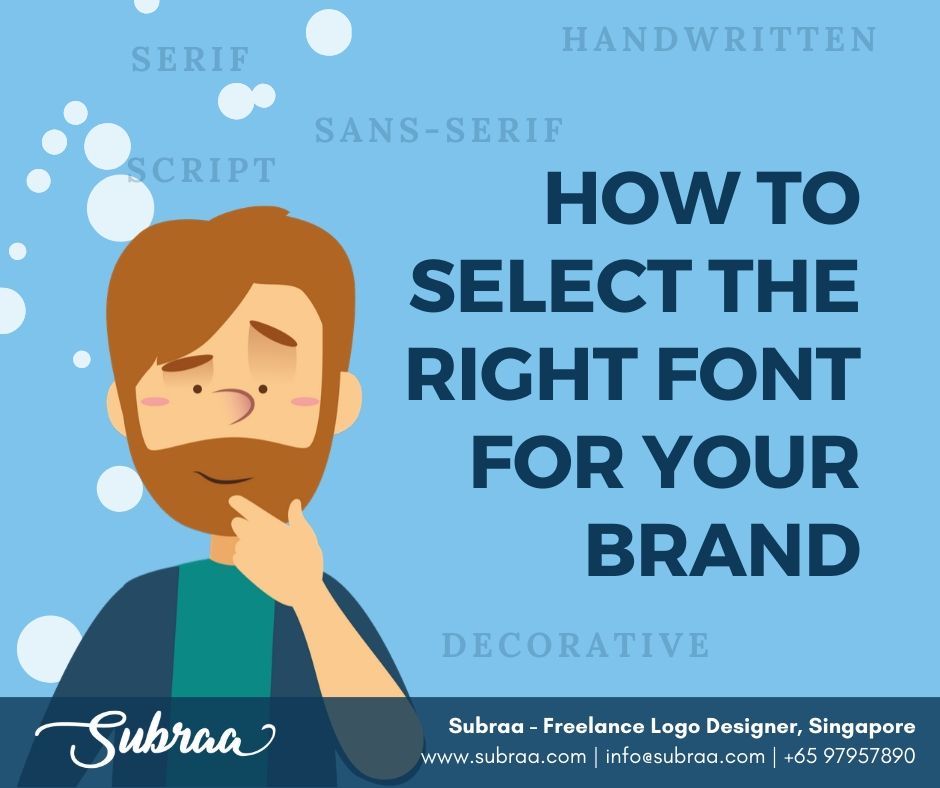 You might very well be not clear of the usage of font in the logo and what significant impact will it create in customers. You might have several questions like is the element not enough to recognise my brand, just my business name in a simple font by any of the side of the logo will not do? etc..
What are the basic font types?
Fonts have their individual attributes, and different font communicate different personalities. The following are the basic list of fonts
Serif
Sans-Serif
Script and Handwritten
Decorative
Choosing of fonts from the above listed for the logo depends upon the business sector. Not every business needs a Handwritten or cursive font. Once you choose your basic font style you need to now figure out the characteristics you need for your font. Thick bold fonts, thin fonts, Italics etc. may need to be chosen depending upon the image your business likes to represent. For eg. Subraa is a freelance logo designer and the logo for Subraa needs to depict a modern stylish look. While Subraa is not just handling logo design, he also provides various web design services. The logo of Subraa cannot be provided in bold, Subraa doesn't like to make a strong impression to his clients, rather he wanted to make a friendly approach, a warm welcoming personal touch is required. Hence Subraa logo is drawn with elegance, friendly and doesn't just stick to one service.

A business name which is short can be represented in bold. Few fashion studios would like to make a bold statement to its customers hence a heavy font is used.
When you start a logo design, the first and foremost thing to take care of regarding fonts is never used more than 3 fonts in the logo. Fonts must follow a hierarchy, the business name should be in larger fonts followed by the tagline in another font and in a smaller size, presenting your logo in this way you let your users know the sequence of importance. If you would like your logo to be read clearly from long distance, try choosing a bold font. Likewise if you choose a typeface which is best optimised for web then your logo will look good both in bigger display and smaller one, this is applicable for the digital space usage.
When you feel a font will be suitable for the logo element, then before you download the font check whether you have the appropriate licence to use it, if not buying the licence will help to use for commercial purposes and to avoid copyright issues. Maintaining your brand values and the impact of logo on your customers should be considered while designing a logo or picking a font for your logo.
Are you looking for a custom/unique logo for your business, Contact Subraa – your friendly Freelance Logo Designer in Singapore. Call or Whatsapp now at +65 97957890 and get your business logo designed at an affordable price in Singapore.
To learn more about logo design you can read my article on How to Design a Perfect Logo – A step by step guide to design a Logo.