Logo is the first thing every customer will see in a business and Logo design is always under rated and considered as not so important identity for their business. My article today details the importance of professional logo design while detailing so, I would also brief you why logo design Singapore doesn't cost S$30 or low.
To be more precise, and to explain the facts in broader terms I would refer the logo design which is done for S$30 or low as Cheap logo design and the other as professional logo design Singapore. In this article, you would also learn the facts why a good freelance logo designer Singapore, doesn't charge low and the importance of investing in logo design for your business identity.
Hiring a professional logo designer or a good freelance Singapore logo designer helps in ensuring that your final logo design output will be unique in communicating your brand identity.
What actually is a logo?
A logo is a short immediate recognition of your business, it is an aspect of identity of your company's brand and comes in various shapes, sizes, fonts, hidden meanings, etc.
If a logo is meant to help you in various aspects then why do people opt for cheap logo design and doesn't bother to invest more on freelance logo design. Well it depends on people's perspective of how they want their business to be viewed.
What makes a good logo design?
A good logo design, well the term itself is hypothetical. What is considered as good in someone's perspective is considered as not good, worse in other's. Let's take a generic scenario of a famous brands for better understanding.
When some one first checks on the FedEx logo they just view it as a Typography based logo and couldn't understand the hidden meaning behind the logo, but the logo has a hidden meaning. Notice the arrow, it actually refers to FedEx speed and accuracy. As I referred above, good logo design always refers to people's perspective.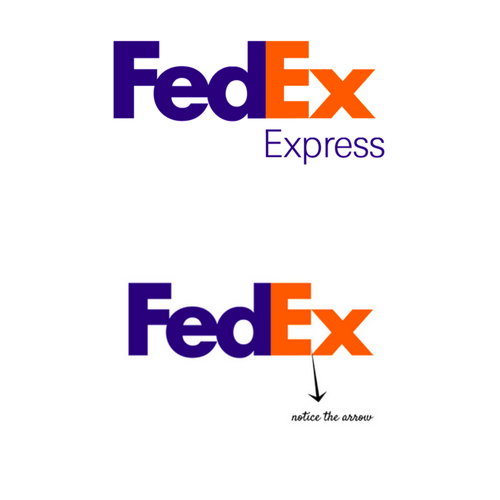 What affects a logo design?
Scenario #1:
Speculative requirements from clients' is one of the main factor which affects freelance logo designer creativity.
"You design the logo first, I will pay you for the logo if I like it. "
"You do the mockup, I will pay only after seeing"
"You come for the meeting with the mockup, then I will decide to accept the quote"
The above scenario happens every day for every logo designers, this is very unethical. Why do the freelancers need to invest time and their effort for a project which has no guaranteed payment, they are also much like doctors and tutors. You pay for the effort they spend on your project. The above aspects affects the logo designer's creativity, thus leading to loss of interest. Few freelance logo designers may accept, however the style and quality will not match.
Scenario #2:
When a client contacts a freelance logo designer, and the logo designer provides his starting price say may be S$150, the first question clients ask is
" In Fiverr, I get a logo designed for S$5 and why are you so costly. Come on I offer you S$30 design me a professional unique logo with unlimited revisions until I am satisfied"
"Why pay S$200 for a logo when I get for $5"
"I have someone else ready to work for S$20, provide me the design for S$30, I will award the project to you as I like your creative logo design"
Well to say the fact, yes in Fiverr you get a logo designed for S$5, but are they unique? Are they professional? Are they accepting multiple revisions? Are they providing based on your requirements? Are the service providers selling the logo only for you or many have the same logo in different colors?
The logos designed cheap are always knocked off from somewhere else, most of the portfolio provided by the service providers are of others and you can see most have the same designs as their portfolio. I have personally experienced this when I myself needed an urgent help.
Why Professional Logo design different?
The logo design process of top freelance Singapore logo designers has an actual design process which normally involves the below steps.
Understanding your requirement: The design process of a professional logo designer starts with a discussion knowing your requirements or a questionnaire which consists of a set of questions to understand the logo design requirements better.
Requirement Analysis: Based on your input in the questionnaire and the business domain, logo designers start their research over web understanding the nature of the styles of logo in the domain.
Sketching & Conceptualization: Freelance Logo designers start to conceptualize the idea and start sketching the same to create the concept.
Presentation: Based on the sketch Logo designers start to design the same and present the client with the concepts, once the concept is approved by the client, shades of preferred colors are suggested.
Logo Rollout: Logo designed is delivered to the client in all formats suitable for use in all digital and print media.
A unique logo is designed after passing all the above design process, and do you think all the above effort of a logo designer would cost just S$30 or less.
If you are serious in designing a unique identity to your business and looking to hire a freelance logo designer then you need to ask the below questions before you choose a freelancer.
Are the logos different from free logo available in google?

Do they gain immediate identity?

Do they convey a company's business?

Quality?

What process do they follow in designing?
Actually, how much does a logo design cost?
Professional logo design costs between S$150 to few thousand dollars. But if you are a small business or start-up looking to design a logo with a limited budget, a good logo design should cost between S$150 to S$1500. You would probably get a best design within this budget. You can go for a freelance logo designer who is nearby you, when you opt for a logo designer you get an expert designing your logo based on your requirement. Meet him once to understand more about the process, how much experience they have and how they bill you.
You can expect a higher quote from some freelance Singapore designers who has a proven track record.
What do you get for your money?
Irrespective of whether you select a logo design agency or a freelance Singapore logo designer who has proven track records, you should exactly know what you will get for the money you pay.
Make sure the freelancers provide the below as part of the deliverable.
Your final logo design in various format

High resolution vector format, which is helpful in printing

Web optimised format

Source Files

Full copyright of the logo.
Isn't it time to invest on a professional logo design, you can get a logo design Singapore quote for free by clicking here. You can also check my recent logo design portfolio and know more about me. Contact me in +65 97957890 to know more about my logo design process and how I could help you with gaining a unique identity for your business.
You may be also be interested in my other Services
Digital Marketing Agency in Singapore
Company Logo Design
Powerpoint Design
Flyer Design Singapore
Business Card Singapore
Freelance Logo Maker
Website Designers in Singapore