How to improve Social Media Lead Generation for your Business in 2020
Social media, the most preferred lead generation platform due to its growing number of users. Whether you provide logo design services in Singapore or a web designer in Singapore you would need to make the audience aware of your services. The best platform to do it is via social media.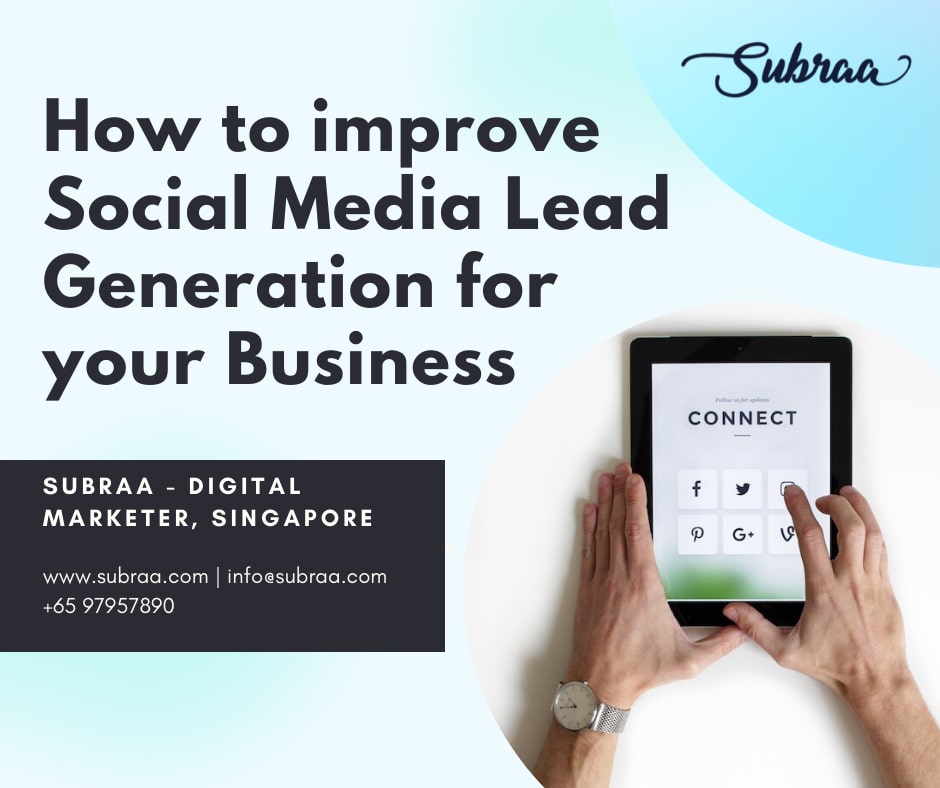 Have you been trying to increase the number of leads for your business through social media or by digital marketing? Do you want to take it to the next level by refining your strategies and boosting the lead generation? Then this article is a perfect read for you. Here are the top tips that will help you improve your social media lead generation.
Make your content exclusive for those who sign up
Quality content always works, it adds greater value to your users and you can make the content exclusive with much more information and make it available for those who sign up to your website to access the content.
Customers will certainly sign up if they are interested in your content and when they sign up they eventually will be your potential customers. These potential leads will also share their contact details through which you can share your offers. Examples of such type of content could be webinars, whitepapers, and case studies.
Run contests for your audience
Contests are not always genuine, when you run a valuable contest that is worth participating then you are attracting your audience. There are a lot of interesting ways by which you can make your customers participate in the contest. You can ask them to share, follow, like or retweet.
This also helps a lot in getting likes and followers and making the potential customers participate. You can also have contest entry forms that will help you in capturing the customer data. You can then put your efforts into converting these leads.
Social media advertising
SMM is one of the best and most effective ways to target your audience and generate leads. By targeting the specific group who has the potential of getting converted, you can make the advertising process way more effective. Since social media advertising is more specific, it can help you generate the leads faster even with a low advertising budget.
While trying to get the user information, make sure that you do not ask for too much and scare away the potential customers. The sign-up procedure should not be daunting and it should be relatively easy to get access to your gated content. Facebook and Instagram ads help in gated contents.
Highlight your offers via custom tabs
According to research, more than 60% of the customers follow the brands on Facebook to be aware of the coupons, promotions that they offer. Therefore, you should be making the most out of these. You should highlight these offers on the custom tabs of your social media page where you can list all the latest offers and coupons etc that you are offering to your customers.
Use geo targeted search to your advantage
If you want to make the most out of your social media endeavours, then ensure that you target your local audience with the help of Facebook and Instagram ads. Geotargeting helps you in reaching to the potential customers in your local area.
You can get their information via a form that enables them to enter their details for getting a special offer from you. This way you can find those potential customers and engage with them generating leads for your business.
Understand your target audience
While this might not be a very direct way of lead generation, listening to the needs of your audience will help you a lot in planning your strategies further. Look into who is talking about your brand online and what they are talking about. Try and identify your shortcomings so that you can improve on them and change your strategy.
You can uncover the conversations that people are having about your brand online to understand what they want. Pitch your services/products to these people. This way you can generate leads fruitfully without trying the method of trial and error as these people are the ones who will actually be interested in your services.
Final Take
Thus, by using the above-mentioned ways you can surely generate leads for your business. Create exclusive content and gate it so that only those who sign up to your website can have the access to it. Run fun contests for your customers and keep prizes and giveaways that they would love to win. In the process, get their data.
Run a campaign now on social media to target specific groups of audience for your business. For generating leads through the local audience, use geo targeted ads that only focus on that specific group to make the most out of it. Finally, keep a tap at the discussions that your target audiences have about your business and services to change your strategies.
Are you looking for a marketing agency to improve your business, Contact Subraa  – your friendly Freelance Digital Marketing Expert in Singapore. Call or WhatsApp now at +65 97957890 and get your business lead generation using social media marketing at an affordable price in Singapore.
To learn more about Digital Marketing you can read my article on
The Importance of Digital Marketing to Business in Singapore